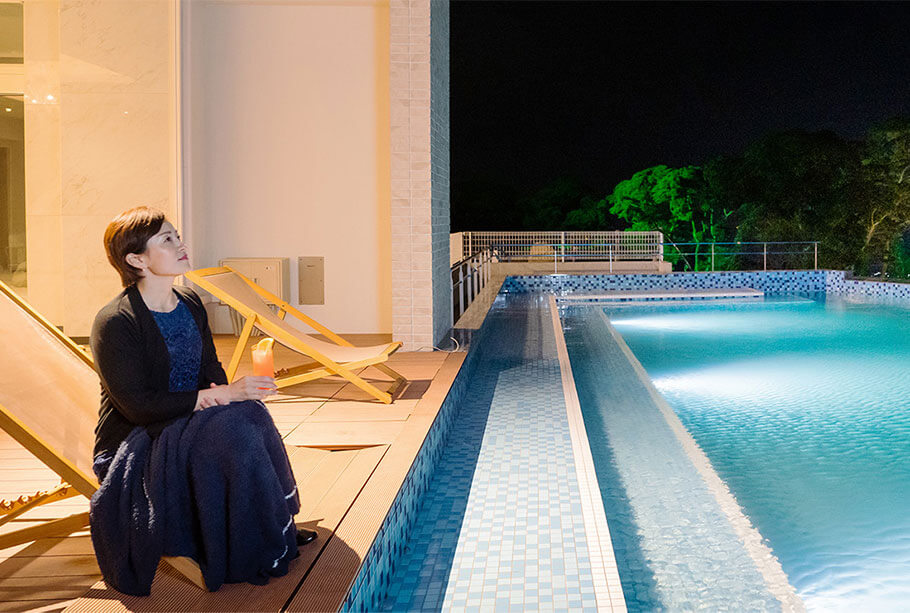 For Your Wellbeing.
For Your Life.
WELLBEING means, "living a healthy life." In other words, it means that you are aware that your body, mind, and environment are all in good condition.
At AMAFURU&Co., we help improve WELLBEING by providing our customers with a healing space, attentive service, and satisfying meals.
Wellness Facilities
at Amafuru Oka
The hotel offers a wide range of relaxation facilities and activities, including a ceramic spa and an infinity pool.
Spend your time enjoying the "healing" that is right for you.
Spa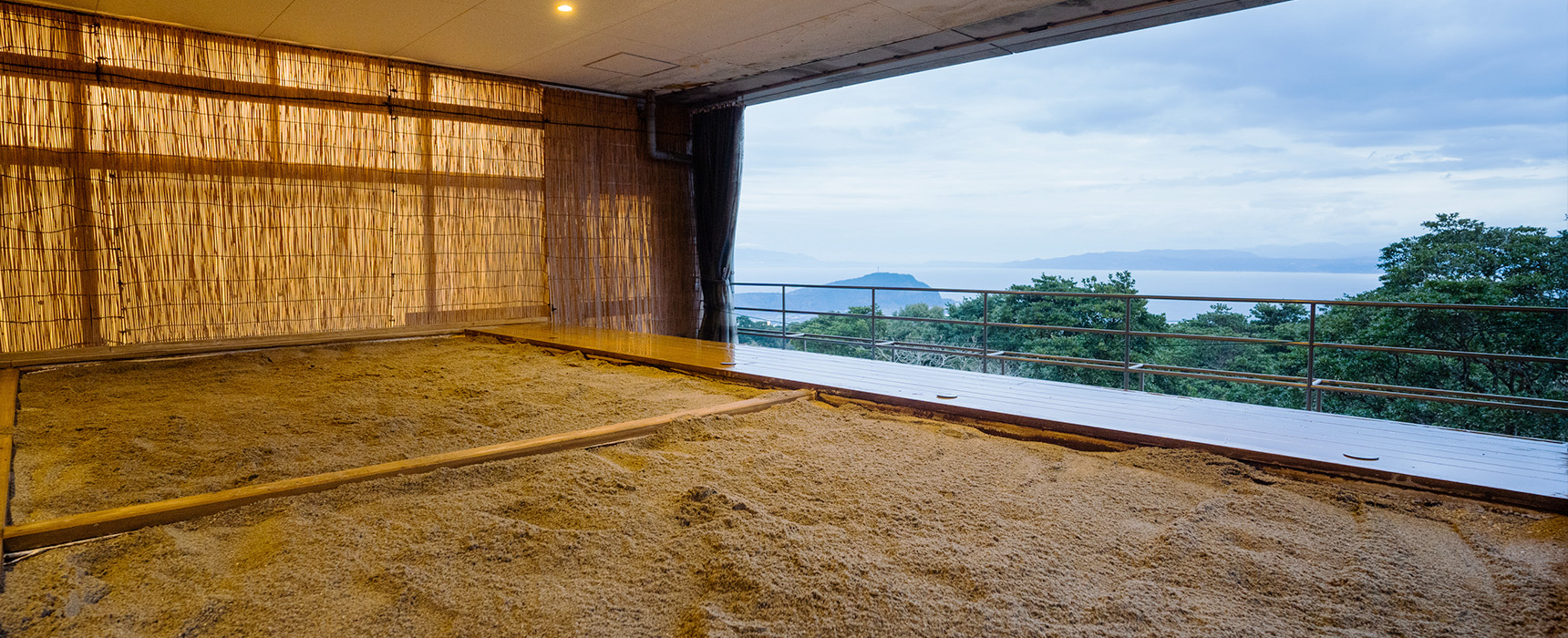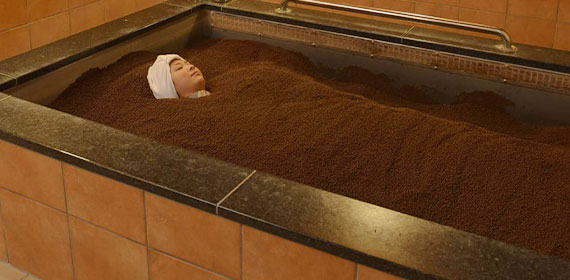 Ceramic Spa
The ceramic beads (Radio Stone) are made of powdered rare light stone that can only be found in Takachiho, Miyazaki and baked into ceramic balls. The beads are heated using hot spring, and guests are buried under the beads. You will be surprised by how much you are sweating, how your blood circulation improves, and how much waste is excreted from your body. The smooth beads feel good on the skin and has a relaxing effect.
*The ceramic balls are cleaned with boiling water after each use. *Radio Stone is a registered trademark of Daiwa Co.
| | |
| --- | --- |
| Hours | 15:00 - 21:00 (Last admission at 20:30) |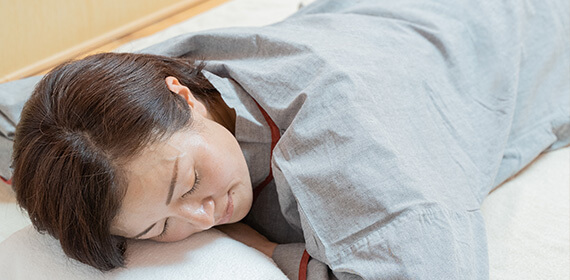 Bedrock Bath
This bedrock bath uses the heat from the hot spring that springs up from deep within the earth. You will sweat comfortably when you lie down on the bed filled with rare light stone (Radio Stone) This is a private room, so you can enjoy your time alone or with your loved ones.
*Radio Stone is a registered trademark of Daiwa Co.
| | |
| --- | --- |
| Hours | 9:00 - 10:00, 15:00 - 21:15 (Last admission at 20:30) |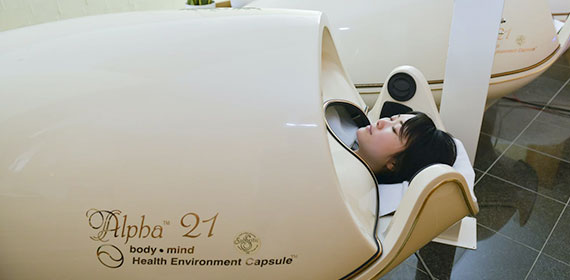 Alpha 21
This is a high-tech relaxation machine born using NASA technology. When you are completely wrapped in the capsule, the sound, scent, light, and vibrations work on your senses of sight, hearing, smell, and touch to relieve your stress.
Course: beauty / sound sleep / health / weight loss, etc.
| | |
| --- | --- |
| Hours | 15:00 - 21:00 (Last admission at 20:30) |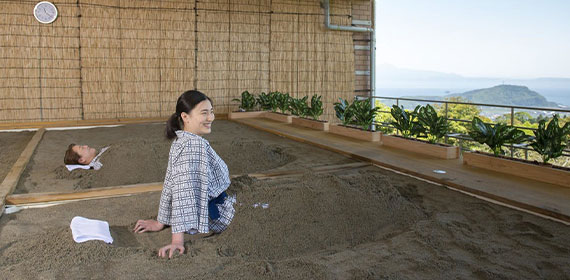 Sand Bath
Ibusuki is known for its hot steam sand bath. The hot spring water permeates the sand and is expected to make your skin beautiful and relieve any fatigue. By feeling the nature on your skin and sweating it out, you will also be able to remove the stress with it. The standard bathing time is 10 minutes.
| | |
| --- | --- |
| Hours | 15:00 - 21:00 (Last admission at 20:30) |
Fitness Room /
Private Fitness Room
In addition to the fitness room, which is free of charge and open to all guests, we also have a private gym for those who want to devote themselves to personal fitness. You can concentrate on your workout without worrying about other people's eyes or sounds.
Fee / Hours
1000 yen / 1 hour
1500 yen / 3 hours
3000 yen / all day rental
Hours
6:00 - 23:00
Equipment
Running machine, aerobic bike, dumbbells, yoga mat, balance ball, myofascial release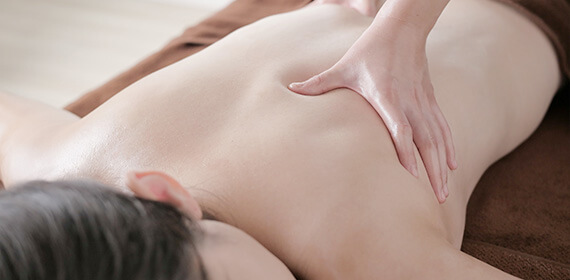 Beauty Treatment & Relaxation
Beauty Treatment
Course
Aroma Body Treatment 60 - 120 minutes /
14,300 - 25,300 yen
Aroma Facial Treatment 50 - 70 minutes /
10,450 - 12,650 yen
Special Treatment (Body + Facial + Head Spa)
120 to 150 minutes / 25,300 - 29,700 yen
How to make a reservation
Make a reservation by phone at least two days in advance
Hours
20:00 - 23:00 *This is for women only.
Massage
Course
40-Minute Full-Body Course:
4,840 yen
60-Minute Full-Body Slow Course:
7,260 yen
Extension Fee: 1,200 yen per 10 minutes
How to make a reservation
Make a reservation by phone at least one day in advance.
Hours
20:00 - 23:00

Remarks
The practitioner will be male.
This service is available for both male and female customers.

Pool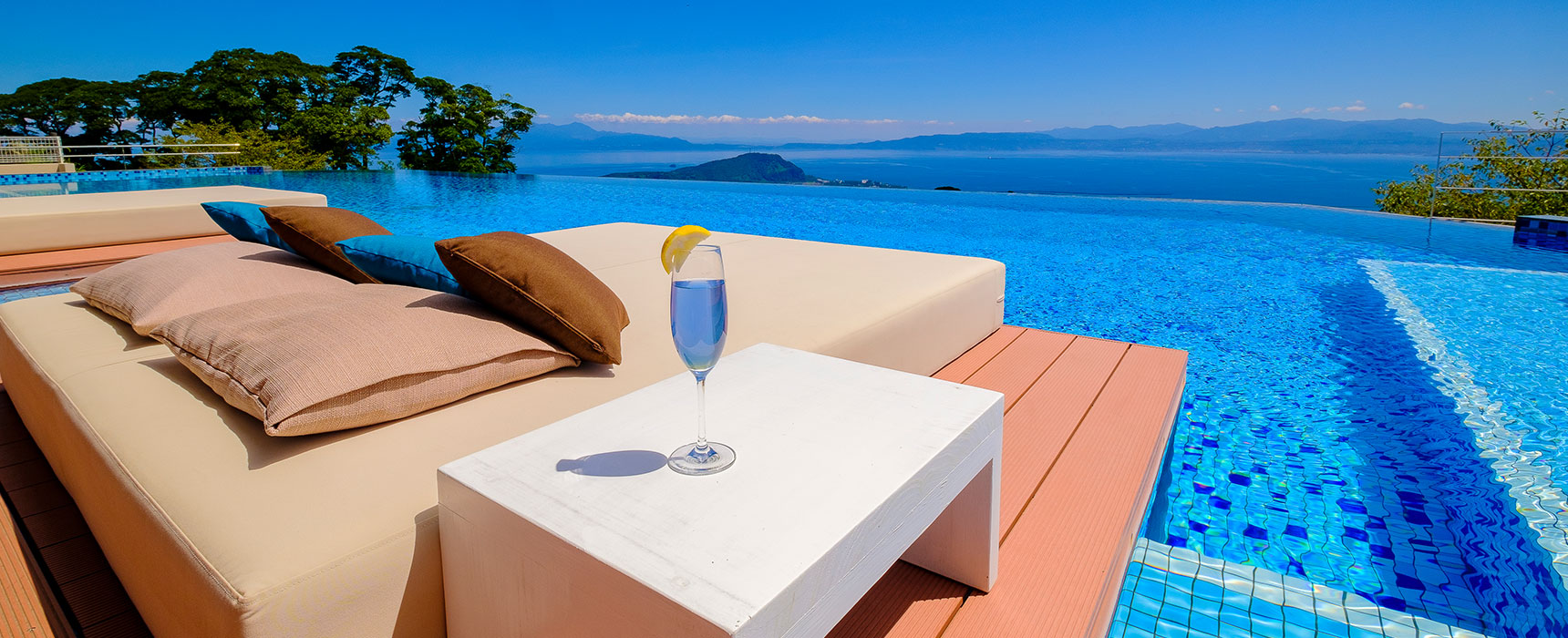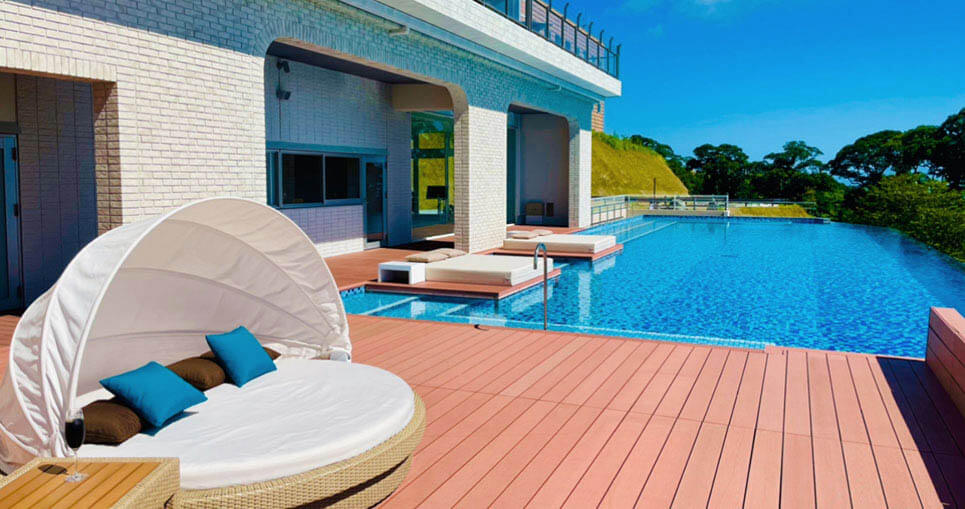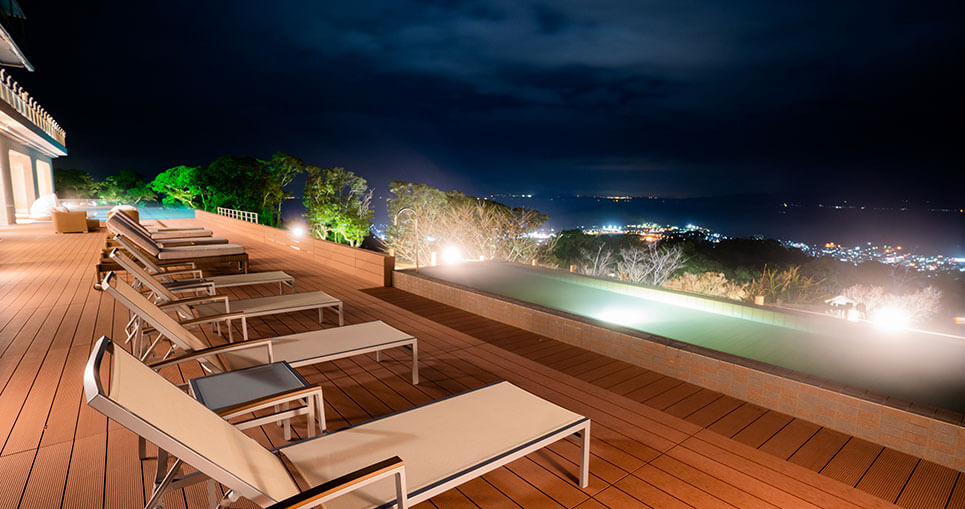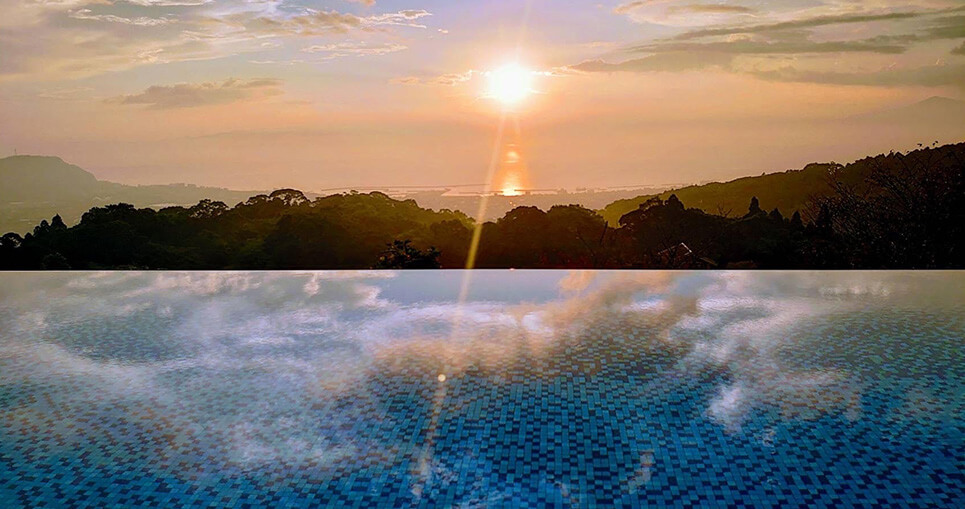 The only infinity pool on the Kagoshima mainland. The temperature is maintained from 32 to 34 degrees Celsius using the heat from the hot springs and the pool can be used all year round.
| | |
| --- | --- |
| Extent | 23 meters (W) x 8.34 meters (H) x 12 meters (D) |
| Hours | 6:00 - 23:00 |
Swimsuits are not available for rent. Please bring your own. (Bathrobes and flip-flops are available.)
The poolside bar "Mallorca" offers sparkling wine, wine (red and white), and natural cocktails. The natural cocktails are free from artificial sweeteners and compounds, allowing you to enjoy the natural sweetness and taste of fruits. Light meals are also available for lunch time.
| | |
| --- | --- |
| Lunch hours | 11:30 - 13:30 |
| Bar hours | 15:00 - 19:00 / 20:00 - 23:00 |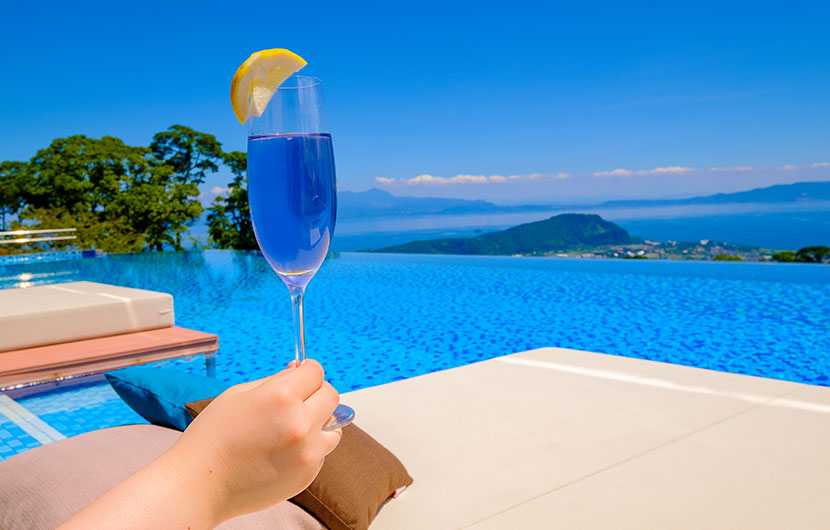 Activity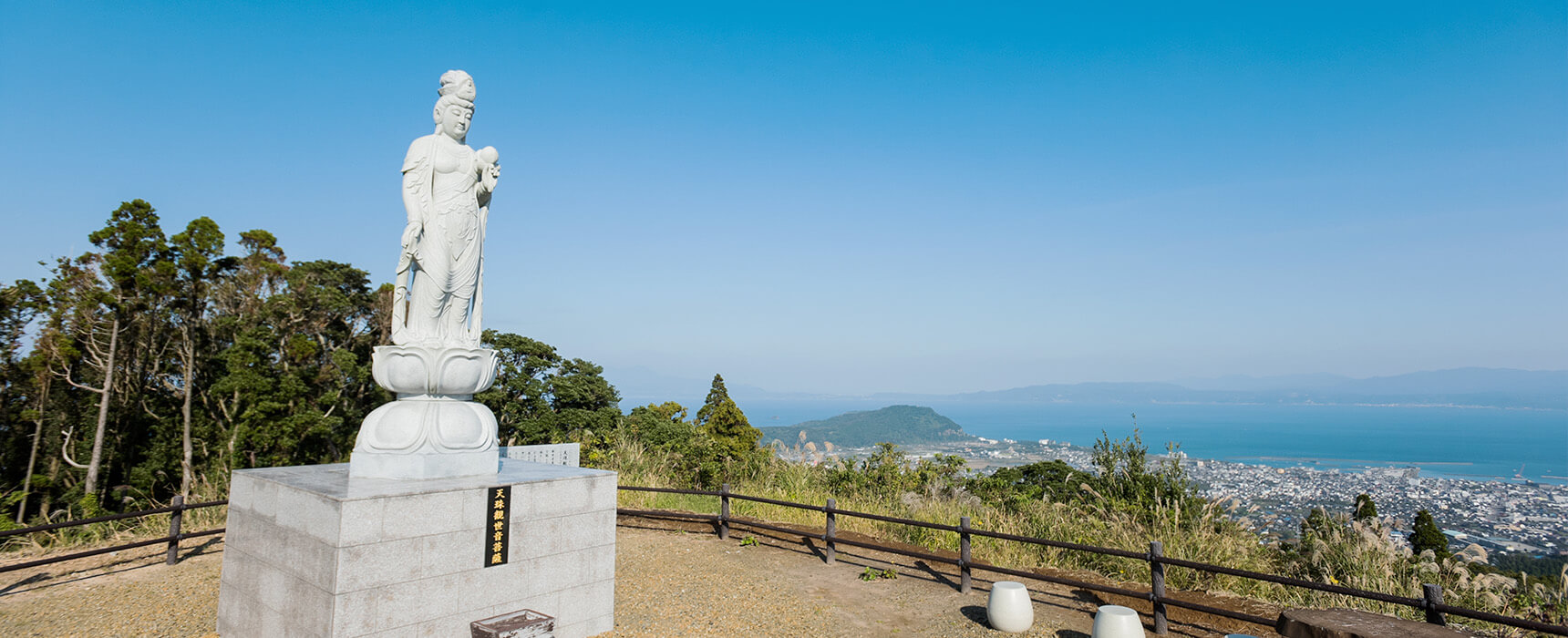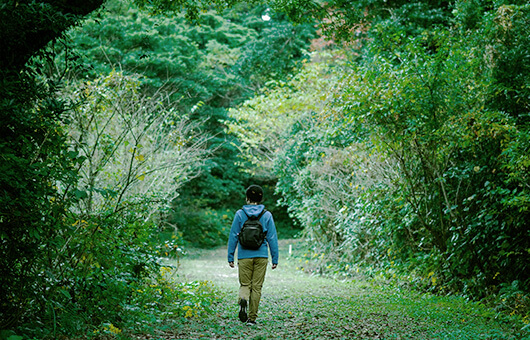 Trekking Course
You can experience the great outdoors from our trekking course. There are courses for beginners and full-fledged courses for advanced trekkers. Please enjoy the course based on your experience and physical condition.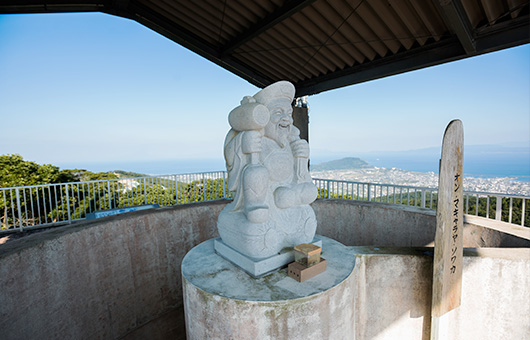 Seven Lucky Gods Walking Course
This is a 4,900 meter walking course (75 minutes) within our large site. The Seven Lucky Gods are placed throughout the area to bring happiness to everyone. How about taking a leisurely stroll with a walking map in your hand while enjoying the green trees and birds chirping?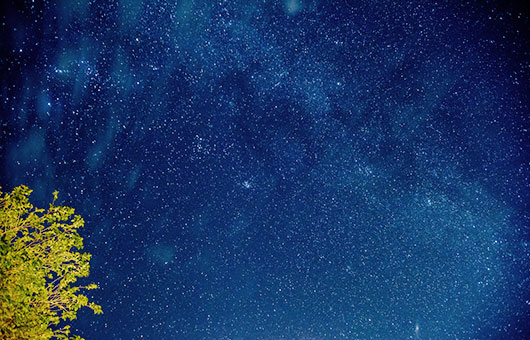 Star Gazing
You can enjoy star gazing at any place in the facility. Try to find your own favorite spot.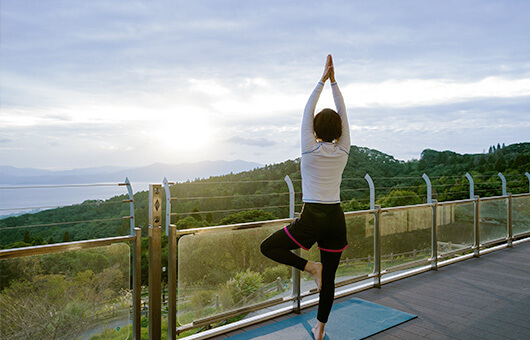 Online Yoga
You will be connected with the instructor via ZOOM. You may wear any clothes you like, and yoga mats will be provided. The instructor will check your posture and give you advice, virtually. You can choose to take the class in a private gym without worrying about your surroundings, or on the veranda or terrace of your room. We invite you to experience an enriching experience that will relax your body from the core. The class will be conducted according to your physical condition and experience, so even first-timers can participate with ease. *The class is only offered in Japanese.
Fee
3,000 yen/person (private lesson, up to 2 people, approx. 1 hour)
2,200 yen/person (3 to 5 people, about 1 hour)
Remarks
Limited to one slot per day; please make reservations at least 10 days in advance.